וַיַּחֲלֹם  And he dreamed.
From now until the end of Hanukkah check out these Hanukkah themed picture books (tool bar above). Every week I'll highlight new authors offering great ideas for bedtime books.
Sweet dreams! And don't miss the Hanukkah-themed work by Israeli authors (interviews and work in English).
וַתִּצְחַק שָׂרָה There is something so satisfying in reading a book that makes an unexpected belly laugh burst out. Here are fun and funny books to share with a child.  Laugh, giggle and groan together.
Don't Sneeze at the Wedding by Pamela Mayer Illustrated by Martha Aviles Mayer (The Grandma Cure) and Avilés (The Shabbat Princess) find broad appeal and comedy in each of their vividly imagined vignettes, while the growing list of sneeze preventives should resonate with anyone who believes that grownups, too, are capable of saying the darndest things." –Publisher's Weekly
Talia and the Rude Vegetables by Linda Elovitz Marshall Illustrated by Francesca Assirelli (Karben). "How can a vegetable be 'rude'?" Talia
wonders, when she mis-hears her grandmother asking her to gather "root" vegetables for a Rosh Hashanah stew. As Talia digs in the garden, she collects the twisted, ornery carrots and parsnips—the "rude" vegetables that she thinks her grandmother wants—and finds a good home for the rest.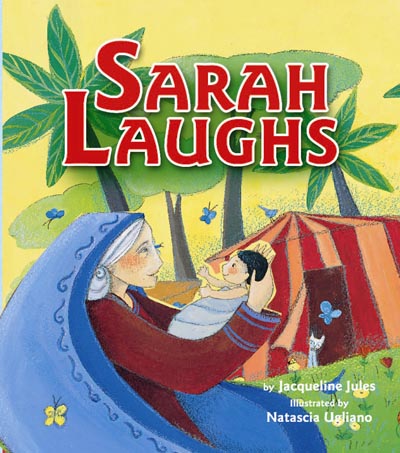 Sarah Laughs by Jacqueline Jules Illustrated by Natascia Ugliano" (Karben) The Old Testament says little about Sarah's feelings, so this moving picture book draws on midrash (legend) and on modern biblical commentary to imagine the inner life of Abraham's wife." Hazel Rochman, Booklist.